Contact Tenafly Dental Spa today to learn more about our dental services.
Directions From Englewood to Tenafly Dental Spa
Located just a five-minute drive down Engle Street, Tenafly Dental Spa is easily accessible for residents of Englewood and the surrounding areas. As a practice that serves a diverse population, Tenafly Dental Spa is committed to providing care that is tailored to each patient's unique needs and preferences. Whether you're in need of a routine cleaning, a filling, or more complex dental work, the team at Tenafly Dental Spa has the knowledge and expertise to help.
At Tenafly Dental Spa, patients can expect to be treated with respect and kindness, no matter their background or situation. Our practice is proud to serve as a melting pot of sorts, reflecting the diversity and inclusivity of the surrounding community. So whether you're a longtime resident of Englewood or are new to the area, you can trust that Tenafly Dental Spa is a dental practice that is dedicated to providing high-quality care with a personal touch.
DENTAL SERVICES IN Englewood
Our team strives to make your visit as comfortable and convenient as possible, no matter what your dental care needs are. We offer a wide range of services, including: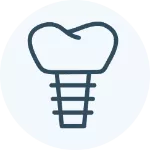 Dental Implants
Lost a tooth to age, injury, or decay? We're happy to help with dental implants made with the latest materials and inserted with cutting-edge dental procedures.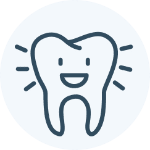 Family Dentistry
Keep the kids on track for great dental health by bringing the whole family in for regular dental exams and cleanings.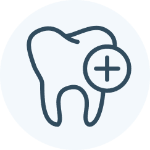 Dental Bridges
In the case of multiple missing teeth, your jaw can be under serious strain that may even change the shape of your face. Prevent this with a well-crafted dental bridge.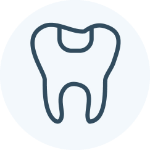 Dental Fillings
Stop decay before it gets serious with a long-lasting gold, porcelain, or composite filling designed to improve the integrity of your teeth.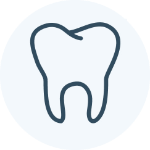 Denture Care
Our denture care center covers everything from fittings to adjustments and much more! Keep your healthy smile throughout your life.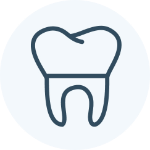 Dental Crowns
When your teeth break down, they can cause a lot of pain. Our personally shaped and mixed ceramic and composite resin crowns will keep your smile healthy and comfortable for a long time to come.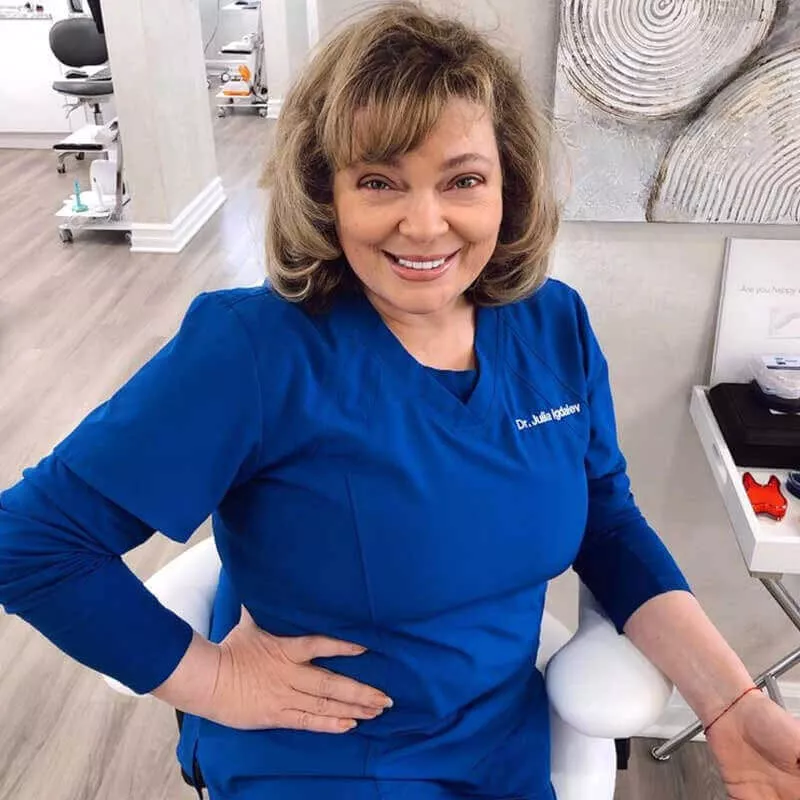 Meet your local Tenafly Family Dental Spa mother-and-son care team!
It started with Dr. Julia Igdalev, who has not one but two doctorates in Dental Surgery from St. Petersburg State Pavlov Medical University and the New York University College of Dentistry.
This serious educational background, combined with nearly 20 years of experience in the office means that Dr. Julia Igdalev is uniquely qualified for all your dental needs.
She's joined by her son, Dr. Igor Igdalev. Dr. Igor Igdalev carries his Doctorate of Dental Medicine with him from Rutgers School of Dental Medicine, alongside a Master of Science. He is a proud member of the American Dental Association, New Jersey Dental Association, and the American Academy of Cosmetic Dentistry.
Having made their home here in New Jersey for many years, the Igdalev duo is more than willing to give back to their community in Englewood. Their compassion for their patients is unrivaled, meaning that when you arrive in their office, you are guaranteed to receive empathetic, transparent help for all your dental needs.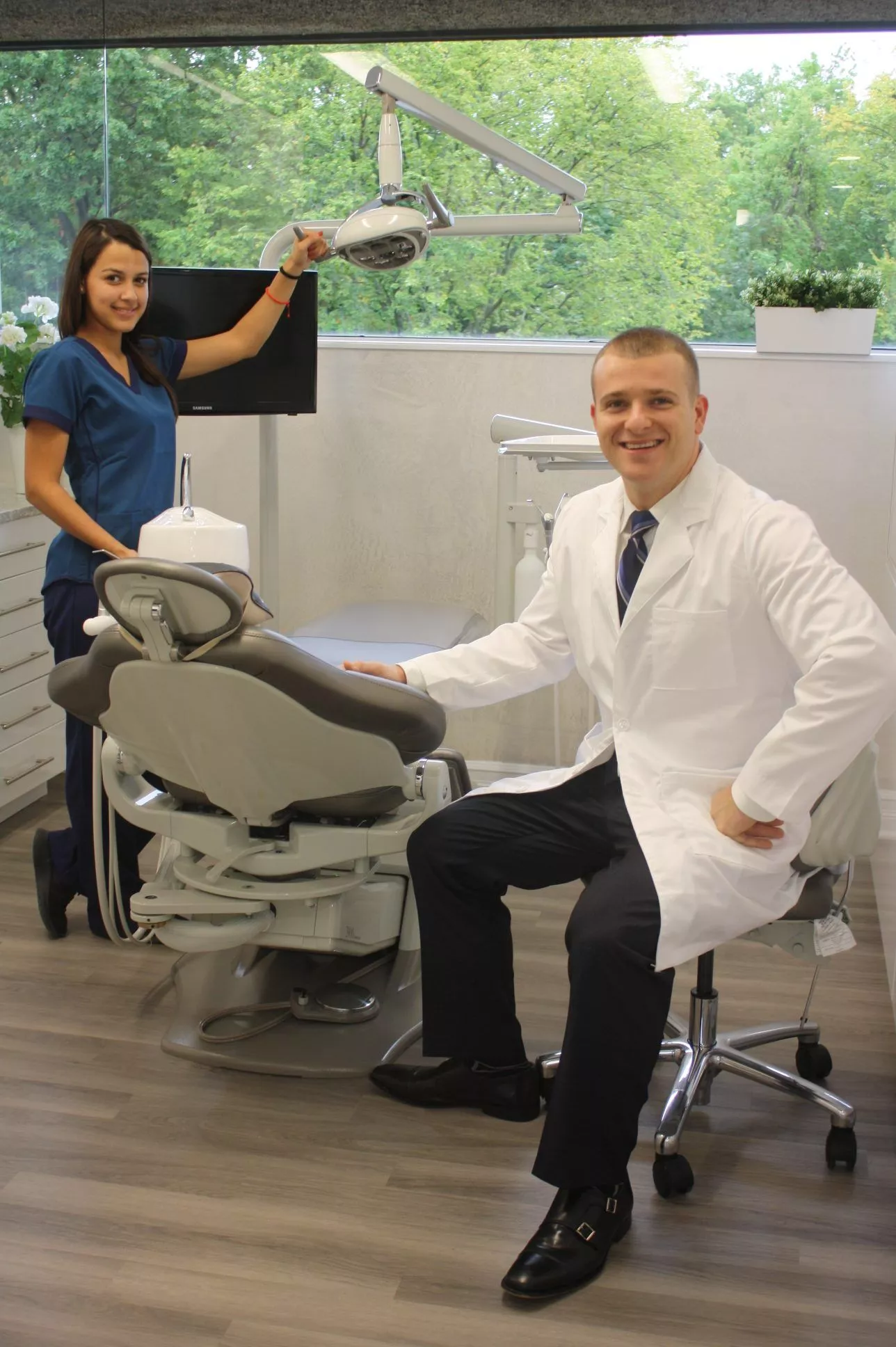 Originally a Lenni Lenepe settlement that was overtaken by the Dutch, Englewood is now a beautiful cityscape in close proximity to New York City. With both gorgeous Victorian mansions and modern complexes in quiet residential neighborhoods and a growing business district, the city is a brilliant blend of modern convenience and old-world charm.
Reclaim Your Beautiful Smile
Book Your Next Dental Appointment With
Tenafly Dental Spa.
What Our Other Patients Are Saying
Staff is extremely friendly and service is great
Amazing place and the best dentist ever. Had an amazing experience!!! I would highly recommend this place for everyone 👍🏼👍🏼👍🏼
Tenafly Dental Spa is great. From the hygienist to Dr Jerry. They explained every move and why on my teeth. Definitely enjoyed my visit
Fast and quick
Fantastic experience and I really don't like the dentist. From the the staff to Dr. Jerry it was an overall great experience.
So friendly end kind stuff the place are so nice love it.
This place is amazing and the staff are always friendly and a pleasure to be with. 10/10 recommend.
I've been coming to this dental office for 20 years. I absolutely love Dr Julia and her staff. So professional snd they truly care. Looking forward to many more years with them. Dr Nathan Is also amazing